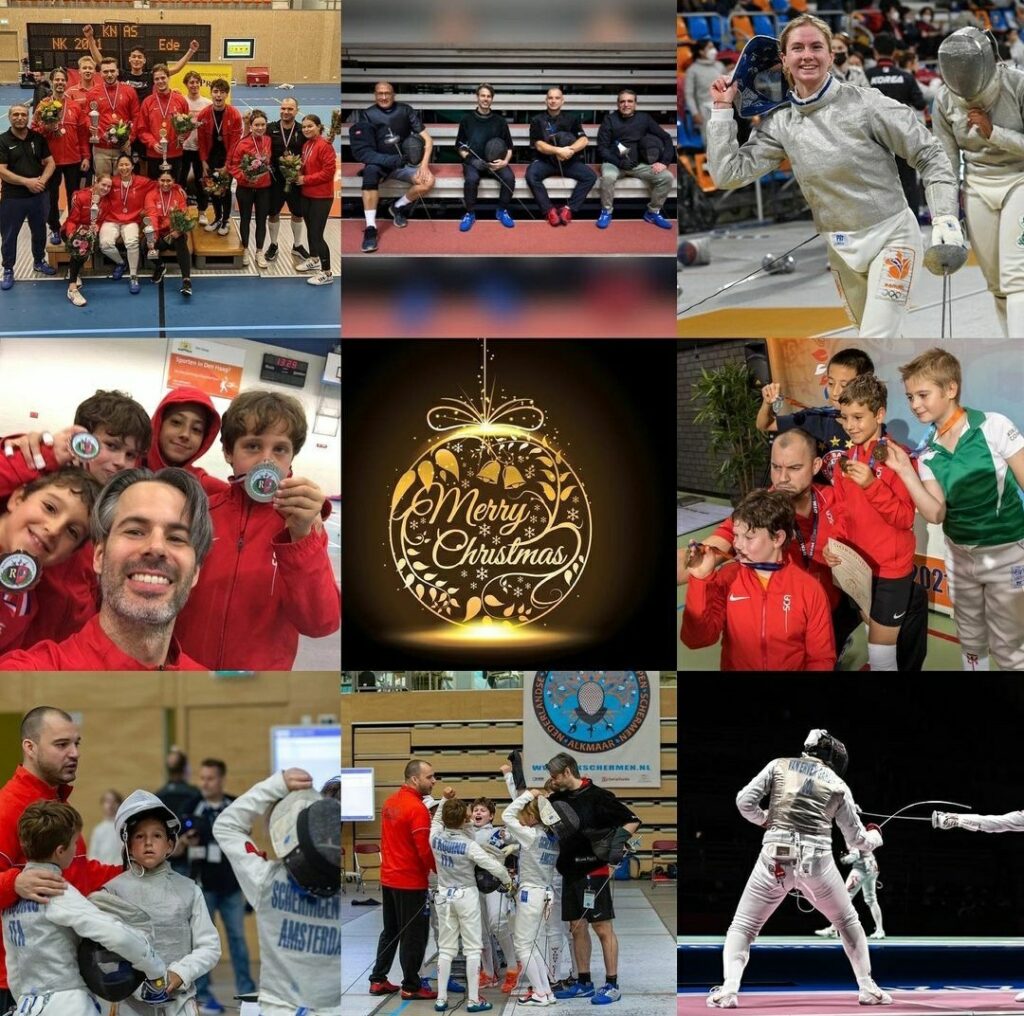 Dear members,
In this year's Christmas newsletter we are sharing some good news: Elise Butin Bik has joined SCA as a trainer! In this newsletter we are also sharing a Christmas message from our Chair David Gardenier, as well as an updated schedule for the upcoming outdoor youth training sessions. Lastly, there are vacancies at the SCA board!
Christmas message
Dear members,
What a year! From fencing outside in the cold to Saskia participating at the Olympic games, this year had everything. We thus also went through a lot together. SCA has maintained this connection, and we can be proud of it! You have also contributed to this. Because every time you traveled to SCA, no matter the obstacles of corona, you helped someone. You helped by being an opponent on the piste. You helped by having a chat with other members. You helped by having a warm heart for SCA. For this I am very grateful.

Thanks to your help the new year can be nothing less than another beautiful year full of sports!

I am looking forward to it,
Also on behalf of the SCA board,
David
—
Chair SchermCentrum Amsterdam
Elise trainer at SCA
Elise Butin Bik will officially join SCA as a trainer! She will be giving foil lessons to our youth members. Elise introduces herself:
Hey fencers!
My name is Elise Butin Bik and I am the new (assistant) trainer, specializing in foil. I learned fencing and teaching primarily from my father, and from Jeroen Divendal and Andrea Borella. This has brought me the Dutch national titles in the categories Juniors and Cadets. In addition, I have participated in several youth European and World Championships. I have been teaching since I was 12, initially under supervision, but in no time independently. I have also completed the trainer's course for club trainer(prêvot). Not too long ago, I started my studies in law at the VU, which I combine with fencing and teaching in Amsterdam.
See you soon at the club!😉
Schedule outdoor training youth
Below you'll find the updated schedule for the outdoor training sessions for youth members (under 18) until 12 January (in the FOS parking garage). For now, these training sessions will be organized once per week. Don't forget to dress warm!
Wednesday 29 December 15:45 – 17:00
Wednesday 5 January 15:45 – 17:00
Wednesday 12 January 15:45 – 17:00
SCA is looking for new board members!
There are two vacancies for positions at the SCA board, for board member – youth and board member – members.
Board member – youth
This board member is involved with projects and improving the fencing experience of the youth members at SCA. In addition, this board member works closely together with the SCA youth committee.
Board member – members
This board member focusses on projects and initiatives on increasing the number of SCA members and improving there experience at the club. In addition, member administration is managed together with the treasurer.
Are you interested in one of these positions, or do you know someone who is? Or do you have any questions? Send an email to secretaris@schermcentrumamsterdam.nl!
Last but not least, we would like to wish everyone a happy and healthy Christmas, and all the best for the new year!
With festive greetings,
SchermCentrum Amsterdam