Dear SCA Members,
September was an exciting month for the club! At both the NK Juniors and NK Seniors in Alkmaar and Ede, SCA fencers gave their all and came back with great results.
NK Seniors
At the NK Seniors in Ede, SCA won four titles. Women's saber champion was Marleen Buitenhuis, who returned from her training location in Budapest to regain her title. Alexie Alupei won his first championship on men's saber. In men's foil, Daniël Giacon defended his title, and in the women's competition Olympian Saskia van Erven Garcia, just back from the Tokyo Games, won for the 11th time. Daniël's foil final was against SCA trainer Matthijs Rohlfs, who showed that he still has a lot to give, and fought his way to the final. The final was the last stop for him as it ended in a clear 15-3 victory for Daniël. The young talent Axel Zoons took a nice third place.
The women's saber final was also a meeting between two club members. Marleen took on last year's champion, Enli Chiang. This final did not end well unfortuantely as, at the score of 14-12 for Marleen, Enli injured her ankle and had to give up. Laura Talbot took the bronze medal. In the ladies foil, Saskia won the final easily 15-4 and young talent Tessa Koster took bronze.
The men's saber tournament ended with an exciting final for Alexie, who only joined SCA last year and has completed most of his fencing training in Romania. Now supported by the coaches of SCA, he managed to gain his first Dutch title with a 15-12 win. SCA coach Daniël Nivard surprisingly won bronze after beating defending champion and ten-time champion Robbert Goossens in the quarter finals 15-14.
Here is the medals list:
Foil, Mens
Daniël Giacon, 1st
Matthijs Rohlfs, 2nd
Axel Zoons, 3rd
Foil, Womens
Saskia van Erven Garcia, 1st
Tessa Koster, 3rd
Sabre, Mens
Alexie Alupei, 1st
Daniel Nivard, 3rd
Sabre, Womens
Marleen Buitenhuis, 1st
Enli Chiang, 2nd
Laura Talbot, 3rd
NK Juniors
SchermCentrum Amsterdam has won seven Dutch titles at the Dutch Youth Championships in Alkmaar. In total, 21 medals were even won. With that, SCA has defended its title as the best club in the Netherlands!
Quinn Ducastel won gold on foil at the benjamins (U12). Valerie Buijse also won the cadets (U17) while Tessa Koster won the juniors (U20). The other four gold medals went to saber: Henry Lin Jifeng managed to win the title with great effort at the benjamins (U12) and Maria Xiaoman Li even managed to win the pupils (U14) and the cadets (U17). Marleen Buitenhuis, who came over from Budapest where she trains, won in the juniors (U20). In addition, eight silver and six bronze medals were taken.
Coach Daniël Nivard said this about the results, "We are happy that all the training outside and training in the parking garage at the Frans Otten Stadium has paid off. Last season was a difficult season for fencing, we are glad we made it through this. This would not have been possible without the support and possibilities of Frans Otten Stadion that we have received."
And of course, a big congratulations to all SCA fencers that participated. We also wish luck to those fencing in the NK Veterans in November!
A BBQ Thank you!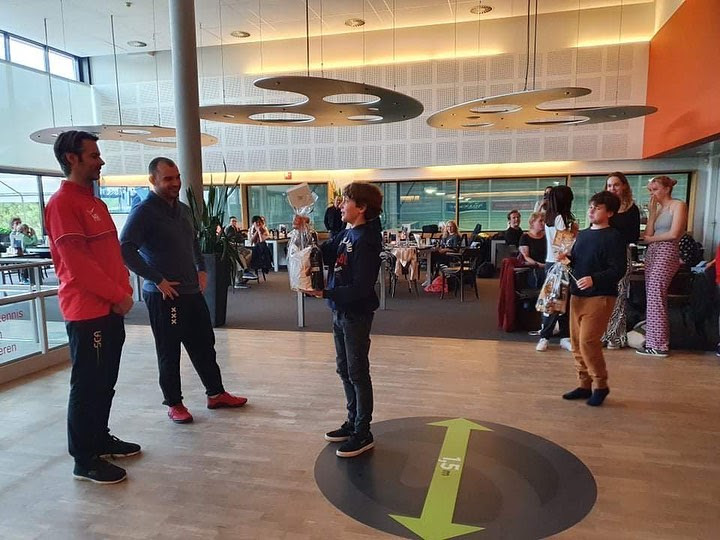 The closing event of Fencing Week 2021, the SCA BBQ, was a huge success. We had over 100 participants! Thank you to everyone who brought desserts to the BBQ, as well as the gifts to our coaches. We're already looking forward to next year.
Apollohal closed this week
A reminder that Apollohal is closed on Wednesday, October 20th, for Autumn Holidays.
See you on the Piste soon,
SchermCentrum Amsterdam